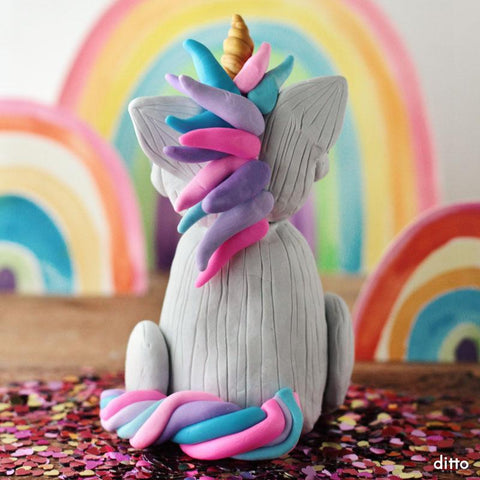 Colossal Unicorn Kit with Online Tutorial
*Order online and pick up at the studio!
Learn how to sculpt, knead, and build your very own Colossal Ditto oven-bake clay unicorn in our online tutorial! (Approx. 5 inches tall)
This sculpture uses tin foil armature to help give the clay its shape, which lets us build even bigger creatures, an important skill for sculptures of all sorts!
Students will learn all about texture and precision to form the pointed horn, and colourful tail and mane! Plus, students will give their unicorns realistic glass-like eyes, and learn all about attaching special materials to their unicorns to bring their magical friend to life.
Included in our Colossal Unicorn Oven-Bake Clay Kit:
Four pieces of high-quality Ditto polymer clay (50 grams each)
One pair of glass eyes
Includes our online tutorial. This kit DOES NOT come with printed instructions. 
You will receive instructions for your tutorial when you pick up your kit(s) from the studio. Please keep an eye on your email! 
* Copyright 2020. Not for commercial, school, or paid program use without authorization.